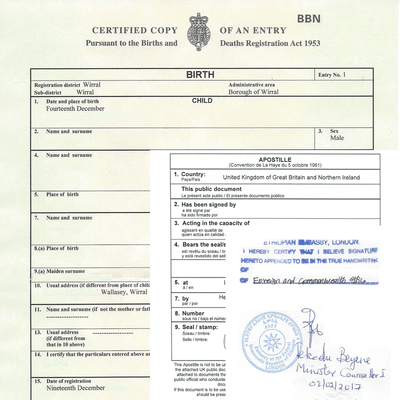 Ethiopia Attestation
Personal Documents
---
If you need to present your personal documents in Ethiopia then we are at hand to take the hassle out of the document attestation process. Once we have your documents we will take care of the complete service and keep your valuable documents safe at all times. Our full service includes-
Document checks and solicitor certification included.
Apostille from the UK Foreign & Commonwealth Office.
Ethiopian Embassy attestation certification
Legalising Documents for Ethiopia
Individuals seeking employment in Ethiopia or returning to Ethiopia following study in the UK will often require this service. Our service makes this process as simple as possible and you simply need to provide the original documents. We will take care of the administrative formalities and return the documents back to you as soon as possible.
We strive to process all orders as fast as possible and most orders are completed in approximately 7-8 working days.
---
Attestation Prices for Personal Documents
ETHIOPIA ATTESTATION SERVICE ONLY - NO APOSTILLE REQUIREDMost Popular

£160
Order Today!
Your document must
have the apostille
attached already!
Personal documents only.
APOSTILLE & ETHIOPIAN EMBASSY ATTESTATIONMost Popular

£214
Order Today
Birth & Marriage Certs
HMRC Letters, No impediments
Criminal Record Checks
Other Personal Documents
APOSTILLE, SOLICITOR CERTIFICATION & ETHIOPIAN EMBASSY ATTESTATIONMost Popular

£226
Order Today
Degrees, Masters etc.
Professional Qualifications
School, College, Uni Letters
Passports, Driving Licence
Print Order Form
Print a copy of the order form if you would prefer not to order online or want to pay by cheque, postal order or bank transfer.
Order and Pay Online
Visit our online ordering pages to select your legalisation service and pay online securely.
---
Fully inclusive legalisation service for your personal documents.
Commonly used for the following documents.
---
How do we attest documents for Ethiopia?
Document Checks
Every document is checked to make sure it is suitable for processing and it is a genuine UK document.
Solicitor Certification
Any document that requires a solicitor certification is signed by one of our solicitors.
UK Apostille Added
The apostille certificate is attached to the document and an embossing seal is applied.
Embassy Stamps
The embassy will add their attestation stamps to the document.
Benefits of Using Our Service
More about us...
Simply print the PDF order form and post to us.
Click Buy Now buttons and pay online. Then post your document to us.
During normal office hours you can call us, chat online or send us an email. We are happy to discuss your requirements and offer the best advice on how to proceed.
You can find a selection of reviews on our website or by visiting our Facebook Page. https://www.facebook.com/ukapostille/
What Does Ethiopian Attestation Look Like?
The embassy will apply an ink certification stamp to verify the signature of the UK government official who issued the apostille. They will also then add their own attestation stamp to the document.
Got a Question? Contact Us!
We are happy to discuss your documents and the best way to attest them.  Contact us today for free advice.